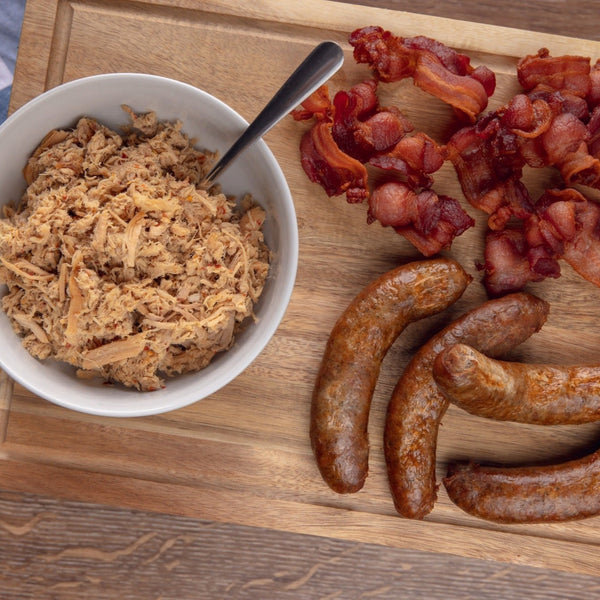 Parker's Eastern NC Whole-Hog BBQ, Sausage Links, Uncured Thick-cut Bacon, and Vinegar Based BBQ Sauce
Perfect for Every Pork Lover
Features:
4 lbs. Parker's BBQ
Parker's BBQ Signature Vinegar Sauce
2 lbs. Sausage Links
1 lb. Parker's Uncured Bacon 
Each Package contains Parker's delicious Whole Hog Barbecue and is vacuumed sealed into 2lb portions! Order now and have our famous BBQ shipped to your door anywhere in the United States!
Each Pound Feeds 4 People.
Please note that BBQ ships on Tuesday. Orders placed AFTER 12:00 PM on Mondays will be shipped on the following Week.
(All sales are final and extra sauces can not be added to your order after checkout is complete.)  
Mail Order FAQ
How can I contact someone regarding my order or shipping questions?
All questions regarding shipping can be answered via email at info@parkersbbq.com. A representative will respond within 48 business hours.
How Will My Package Ship?
Our BBQ and sides are shipped frozen, and all of our packages are shipped on dry ice in Styrofoam coolers. We ensure there is an ample amount of dry ice so that our BBQ and sides stays intact during transit.
How is the food packaged, and how do I handle it upon arrival?
All of our meat products are vacuumed sealed. Our sides are either vacuumed sealed or containerized in an FDA grade clear bag. Upon arrival, all products should be immediately put into the freezer or refrigerator. Packages may arrive partially thawed; however, it should be cool to the touch.
How long will it take for my package to be delivered?
All mail orders ship Via FedEx or UPS, depending on shipping address location. Orders placed by 12 PM EST Each Monday will ship out the following Tuesday. Orders placed after 12 PM EST on Monday will not be shipped until the following week.
Can I Ship to a P.O. Box?
No, We Cannot ship to P.O. Boxes due to the nature of the packages. If you provide a P.O. Box address, your order will remain on hold until a sufficient address is provided.
When will I receive my tracking information?
Tracking information will be sent out via email after FedEx scans your package. Orders are shipped every Tuesday, you can expect tracking information to be disbursed between 12-5 PM EST.
What time will I receive my package?
There is no way for us to know an exact delivery time for your package. FedEx delivers between 8:00 AM and 8:00 PM. It is important to monitor your package if it is the expected day of arrival. FedEx's policy is to leave packages at the front door without ringing the doorbell! We are not responsible for packages that are left at the door for an extended period of time.
Can I make a custom order or add items after checkout?
All BBQ Packages come as they are. No changes can be made to any of our packages. We are currently working on new and exciting things to bring to our customers every week. But currently we cannot make any changes, and we cannot process add-ons after checkout.
Will the E-Gift card work for in store purchases or purchases made through your app?
No, E-Gift cards will only go towards mail order services processed on our website.
Can I leave a gift message for the recipient?
You can absolutely leave a gift message for the recipient! During the checkout process, while in the shopping cart, there is a text field labeled "special instructions for seller". Feel free to write a gift note for the recipient in that field. Just include at the end that you would like to send this as a message.
How do I specify a ship date?
You can specify if you would like your package to ship at a later date while on the shopping cart page. Please write in the text field labeled "special instructions for seller", what date you would prefer your package to ship. We can place your package on hold and try to ship it as closed to that date as possible. We aren't held liable for packages that arrive past the requested ship date. So please provide yourself ample time upon your request, if there is a delay or a reshipment required.
Will I receive any Cooking Instructions?
Yes! Every Package is provided with cooking instructions for each product we carry!
How should I thaw the meat once I am ready to eat it?
We suggest thawing all of our meats for 6-12 hours in a refrigerator after removing items from the freezer. Bulky items like BBQ will take longer than items such as bacon!
Do I have to pay sales tax on my mail order Parker's?
Only North Carolina residents have to pay sales tax on Parker's mail-order services. All other states will not be obligated to pay sales tax for your package.
Great Sampler
I cant say enough how much my family loved this sampler pack !! It was our first taste of Southern BBQ. Everything came well frozen, the meats were all SO tender and juicy plus the Vinegar sauce was incredible. Customer Service was TOPS thanks to Nora. ❤
A Real Taste of East Carolina!
I spent a lot of time in the Goldsboro area before retiring.
I think what miss mist is the barbeque.
This is the real deal!
I love it and will buy again and again.
Excellent Service
In the midst of the holiday rush and the snowstorms in NY, they were able to get my gift delivered before Christmas when I didn't think it would happen. Customer service provided excellent communication throughout. We will definitely be using them again.
We haven't tried the bacon but the sausage is great with eggs and biscuits for breakfast. So so good. Now the chopped barbecue is the bomb. We tried the rest but we have found the best Parker's barbecue. Great chopped barbecue sandwich.
Recent Order
As always; the recent purchase was very good. The packaging was good as the products were still frozen upon arrival. We have never received an inferior product from Parkers. We always visit Parkers on 301 in Wilson when traveling. Keep up the great work.